Dalcour Maclaren attended the Smart Energy Conference 2023 at the ICC, Belfast and provided some thoughts on the core takeaways from the speakers.
The overriding message was that whilst NI has a fantastic opportunity to develop renewable energy, the removal of several barriers is required to encourage investment and achieve the vision of net zero carbon and affordable energy by 2050. The Climate Change Act (Northern Ireland) 2022 sets a target of at least 100% reduction in net zero greenhouse gas emissions by 2050 (i.e., net zero emissions by 2050) for Northern Ireland compared to baseline, along with interim targets including an at least 48% reduction in net emissions by 2030.
According to 'Shaping Our Electricity Future Roadmap Version 1.1' published by Eirgrid and SONI (System Operator for Northern Ireland), there is a need for 3,550 MW capacity by 2030 to deliver 80% of this target. Only 30 megawatts of renewable energy were added last year, and according to the 'Accelerating Renewables in Northern Ireland Report' produced by KPMG, 1,900 MW of new generation will need to be added by 2030 to reach our targets. The report states a known pipeline of 3,461MW of renewables, which, theoretically, could meet demand. However, there is concern that with the current timelines for grid and planning, we will achieve only 725MW. The general sentiment is that offshore wind, solar and onshore wind are pivotal in reducing dependence on fossil fuels and could contribute £1.9 billion to the local economy. So, what needs to change to deliver?
Key Enablers
Jim Dollard, Exec Director of Energy and Trading at ESB, delivered a presentation entitled Powering the Revolution in which he eloquently explained the key enablers:
Market Support and Energy Policy Framework to incentivise investment
Planning and consenting regime fit-for-purpose that enables investments for the security of supply and net zero transition
Crown Estate to accelerate the development of NI offshore projects
Pace and collaboration are critical factors for success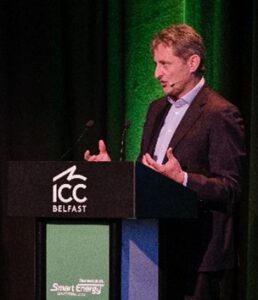 Jim stated that whilst he has "sympathy for policymakers, we need decisions and certainty for business and investors in order to meet NI's legal 2030 obligations," he went on to say that "we need a partnership between all stakeholders – it's key in order to deliver because the task at hand is so huge and setting up the frameworks will take time".
Naomi Long, MLA for the Alliance Party, made it clear that the restoration of the Assembly and Northern Ireland Executive is required to provide leadership, stating that there is "no primary route to market in NI – since the power-sharing agreement broke down investment has stopped".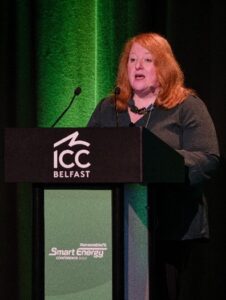 Interestingly, two projects are leading the way despite these challenges. The North Channel Wind projects 1 & 2 off the east coast of Northern Ireland will be located between 9 and 25 km from shore in approximately 120m of water depth. Whilst these are in the early scoping and design stages of development, it is the only offshore wind project currently being progressed off the coast of Northern Ireland. Hopefully, where one leads, others will follow. 
The scoping stages of any project, whether onshore, solar or offshore, provide the opportunity to consult with local communities and wider stakeholders during the design stage to develop the most suitable and appropriate proposals. 
At Dalcour Maclaren, we firmly believe that early consultation with landowners and communities is key. Before commencing consultation, thought must be put into the Landowner Engagement Plan and Land Rights Strategy with the project's objectives in mind. 
The Purpose of a Land Rights Strategy (LRS)
Before considering the best approach for an LRS, it is worth considering the purpose to clarify what should be included. The high-level purpose should be to:
Deliver consistency and fairness in approach
Maximise the uptake of voluntary agreements
Establish a commercial framework to facilitate forecasting of land costs
Ensure compliance with the compensation code
Create a clear process for engaging with land interests
Create a clear document structure and templates
Whilst it could be expected that every LRS for each developer/operator is similar, our experience is that approaches differ significantly according to the key drivers of each organisation.
Key Drivers
At Dalcour Maclaren, we take time with each of our clients to understand their respective key drivers. With knowledge of those drivers, it is possible to know what success looks like for each client, and those key drivers should be massively influential when considering project approaches and LRSs.
The top Key Driver themes for our clients include:
Maintaining high stakeholder relationships and demonstrating fairness
Speed of delivery to meet project programmes
Controlling costs
Maintaining quality
However, it is not always possible to achieve all these as each one can often play off against the other. Consequently, the stance of each client strongly influences their approach to each of those themes, principally because there is a scale on which each client sits according to their appetite for risk and cost.
Dalcour Maclaren was established 20 years ago and is still the only company delivering consenting services 100% dedicated to the utilities and infrastructure (U&I) sectors. This focus makes us a significant 'value add' organisation to our clients, especially in sharing market intelligence and benchmarking information. Our 450 highly skilled professionals form the largest team delivering these services for U&I clients across the UK and Ireland. We represent a substantial number of Distribution Network Operators (DNOs) and Electricity Transmission Operators and Power Generators.
Explore our Expertise
With our single focus on utilities and infrastructure, we anticipate our clients' needs and provide tailored and effective solutions.