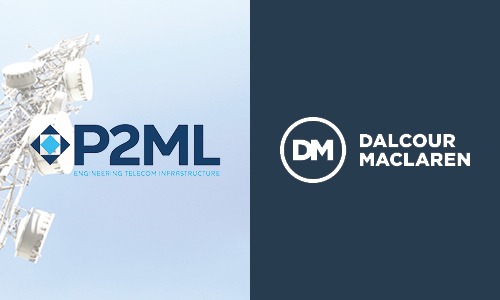 We are excited to say that P2ML and Dalcour Maclaren have teamed up to provide a new Acquisition, Design and Construction services offering within the mobile telecoms sector.
This collaboration will bring together two sector-leading businesses to deliver new and exciting telecoms projects to a very high standard.
For many years P2ML have gathered extensive expertise in the design, construction, inspection and maintenance of telecoms towers.  Dalcour Maclaren with an unrivalled track record in the utility and infrastructure sectors has quickly established an excellent reputation in the telecoms sector which makes this new arrangement a really dynamic and exciting venture.
Director Jim Murray CEng M.I.C.E says: "We are excited to be teaming up with Dalcour Maclaren on several new and exciting projects to enhance our mutual capabilities."
John Wood FRICS Director of DM says: "We are delighted to partner with P2ML to create a new ADC offering focused on delivering optimal results in today's challenging market"
To find out more or enquire about all the new service we can offer please get in touch p2ml.com  & dalcourmaclaren.com