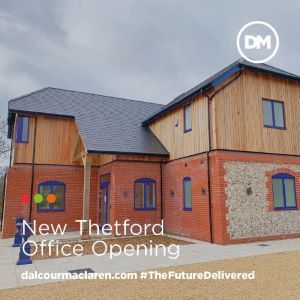 We don't do things by halves at Dalcour Maclaren- as well as opening brand new offices and refurbishing existing ones, we are thrilled for our East Anglia team to be moving in to our newly built Thetford office today, just a few miles down the road from our original site.
The new office is in a great location on the Kilverstone Estate, and with it comes more space for new starters, client visits and co-location working, along with opportunities for growth and development within the team and the capacity to take on even more work in the East Anglia region on top of our existing exciting client base working across Power, Water, Telecoms and Transport & Infrastructure projects.
We are really pleased to move into the new premises after an excited wait for construction to be completed.
To find out about the opportunities available to join our Thetford team, visit dalcourmaclaren.com/careers