Dalcour Maclaren were instructed by a national utility operator to identify areas of their non-operational land from which income could be generated through the leasing of roadside advertising hoarding.
Our Geomatics Team were tasked with applying a scoring to around 250 sites so that those with strong potential could be identified for further investigation.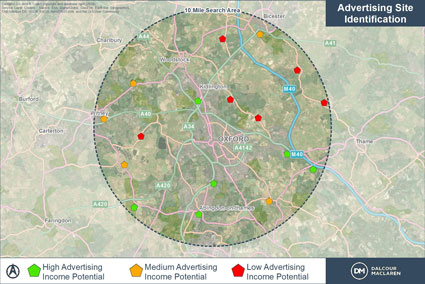 Solutions
After discussions with our client, a scoring matrix was produced which was based upon a site's proximity to a major road, road usage and how urban an area the site was in. This was based on the assumption that an advertising board adjacent to a major road in a large town would offer wider publicity than one on a small road in a rural area, and therefore generate greater revenue for the advertiser.
Using ArcGIS software and data available under the Open Government Licence, each site was assessed based upon the factors listed above, and a score applied to each.
Following the assessment, a detailed plan was produced for the 23 highest scoring sites, which was presented to the client.
Results
Time was saved through the use of GIS analytical techniques to automate the initial assessment of sites for potential advertising.
Sites identified through this process are now being taken forward for leasing, demonstrating the commercial viability of this work.
Through the development of this low-cost, widely applicable methodology we are now able to offer this service to other clients with large numbers of widely distributed sites. The same technology and principles can also be applied to other situations including site finding for peaking plants or renewable energy opportunities for example.
To find out how this service might benefit you, get in contact with us by clicking here.
Project Information:
Author:
Tim Donoyou
Associate Director, Dalcour Maclaren
Share this post:
Explore our Expertise
With our single focus on utilities and infrastructure, we anticipate our clients' needs and provide tailored and effective solutions.