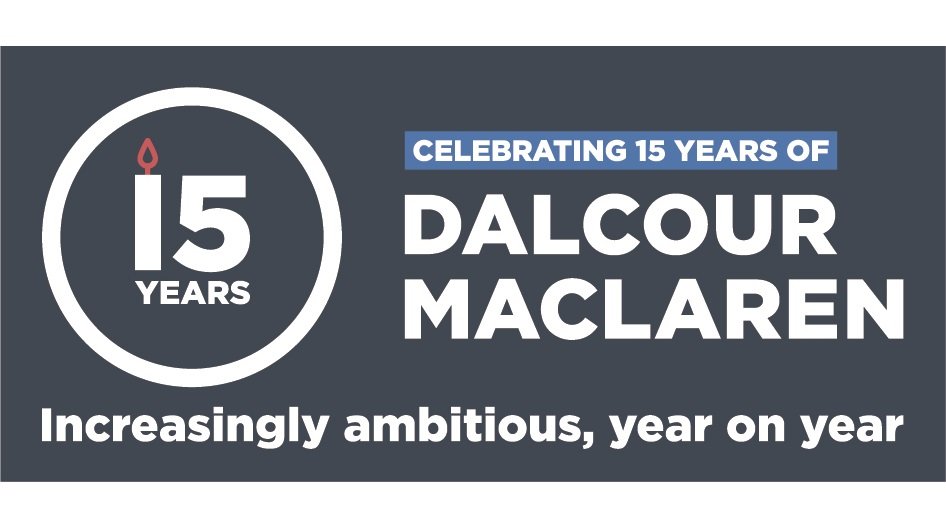 As Dalcour Maclaren continues to celebrate its 15th year of business, we sat down with Alix Harrison and Julie Hinkley, who are two of the longest-serving administrators in the company, working in the Kent and Oxfordshire offices, to learn about all the changes that they have seen throughout their time here…
Can you tell me about when and how you ended up working here at Dalcour Maclaren and what it was like when you started?
Alix: I joined the Kent office back in 2005, so 13 years ago. The company had two tiny offices then; I worked for Jonathan Tennant and Andrew Barker whilst the other two Directors were up in Oxfordshire. I was in a job that I really didn't enjoy so I applied for the role and was quickly contacted by Jonathan. I came for an interview the following day and signed my contract the same week!
Julie: I joined after Alix, in 2008, and was based in the former Bicester office just up the road from our current location. I was the 8th person to join that office (there are around 70 of us here in Weston on the Green now!) Like Alix, my interview was quite informal, I met with George and we just had a discussion about what the job would entail and what they expected of me and the job offer followed!
What is the biggest change you've seen in the company since you've been working here?
J: Of course, the company has grown a lot, but also the structure has changed too. When I first started the admins were assisting the Directors in their surveying work, but now the work is spread across a lot more people and the Directors' roles have evolved. There are more departments within the company which means there are more people to call on if you ever need help with something. Despite all that though, there is still the same feel throughout the company that there has always been, which is familiar and friendly.
The admin team has grown significantly since I started- we used to work for specific surveyors, but now our work is distributed by client: each of our clients has different systems and procedures so we focus on one client in order to deliver their objectives as best we can whilst also building a good working relationship with the client.
There is rarely a quiet moment, but it is great to have so many people around to help out nowadays.
A: Yes, the number of people in the company has grown hugely. We've gone from a total of 4 people when I started to 164 now, which seems crazy. The Kent office has relocated twice: we moved from Ashford to Maidstone and then upsized again after that.
For me though, the biggest change has been in the work itself. I started out as a personal assistant and secretary to the Directors, however when Andrew Robertson joined, just after me, he headed up the Property Management department. My day to day work is almost exclusively dealing with property clients. I have learnt a huge amount about property management, mostly from Andrew and Jonathan and I really love the work; I get to go out and about to visit properties and tenants which I wouldn't have expected when I started the job.
And finally, what is it that has convinced you to stay for so long!?
J: In my lifetime, I have worked in many different companies and this one provides such a different working environment to all of those, that I feel quite lucky. I think you have to experience office life in different places in order to appreciate how fantastic it is to work here. The people are nice, the parties are great, and I feel that we are well looked after.
There are a lot of additional benefits too; I try to make the most of the perks awarded for healthy living by our Health Insurance that we have through Vitality- the team in the Bicester office are quite active and so we have challenges for who can record the most steps taken a week!
It works well for me here that we are animal friendly too – I have a border collie called Mollie who sometimes comes to work with me; with the office being on a farm there are some really nice lunchtime walks, it very sociable with others bringing dogs in as well and is a good excuse to get away from the desk!
A: I agree that we are well looked after here: The Directors often ask us for feedback and demonstrate that they take notice of our comments. For example, the introduction of flexi-hours and additional holiday on our birthday and for long-serving employees are both a result of staff feedback surveys that have taken place.
I feel that the directors trust me to do my job well, but that if I have any queries or problems there is always someone to ask, which works well for me.
We both feel that since we have been here for so long now, we are very much part of the fabric of the company; we have seen it grow up around us and so we have a sentimental attachment to the firm and it's great to see it doing so well.