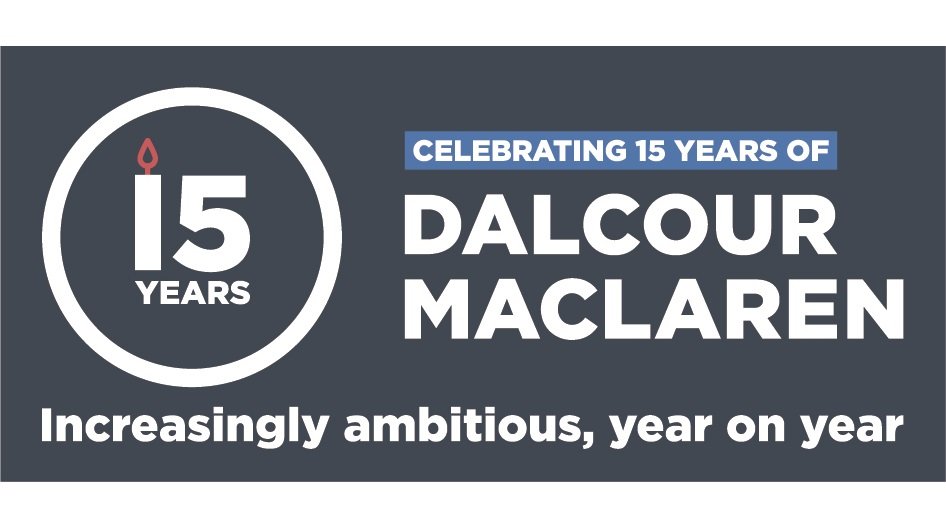 As Dalcour Maclaren continues to celebrate its 15th birthday, we sat down with Mike Lee, one of our company's first Graduates and now Director leading the Water Sector, to get his views on what has made him stick around…
When did you join Dalcour Maclaren, and why did you choose DM?
I joined Dalcour Maclaren in January 2007; I had just got back from a year travelling, before which I had been working as a farm manager.
There were only 3 people in the Bicester Office; James, George and Andrew. I was interviewed by George and James, but the office was so small that there wasn't even a meeting room for the interview, so there I was in the office, the phone was going off throughout the interview and Andrew Barker was chipping in every now and again!!
There was clearly excitement and passion about where the company was going and they were determined to make it the success that it is today; it certainly seemed like a great opportunity and so I accepted their offer!
What's the biggest change that you've seen in the company since you've been here?
The volume of work has increased considerably, we now do more work in a month than we did in the first year I worked here. We've also recruited specialist skillsets and so now offer services covering a much broader spectrum. Consequently, our staff numbers have grown as we have taken on new clients, but we are always looking to work more efficiently and utilise available technology to provide our clients with the best possible service and value for money – which I think we are doing well!!
One example which makes me laugh is a recent pipeline scheme where we have identified and agreed access with 250 private land interests in in less than a month. In the early days, this would have been a very manual process taking an awful lot of effort, but now, with dedicated skillsets in our land referencing and GIS teams, investments in data handling and project management systems, it is possible in a fraction of the time.
How different is the work you do now, to when you started?
In my current role as Director in charge of the Water Sector, I have responsibility for the day to day management of 7 water clients and over 30 members of staff, spread over four offices. As you can appreciate I don't get to go out to site as much as I used to but the challenges that this role presents are also very exciting.
The quality of our staff has, and always will, ensure that our clients choose to work with us. I therefore work closely with both our clients and our internal client managers to ensure that our staff are given the right opportunities to fulfil their potential and exceed our clients' expectations. I am proud to say that they are certainly better in their respective levels than I could ever be! They are smashing it!
Why have you stuck around?
Because of the people of course! We are so lucky here that we all get on so well, which helps us maintain the right culture within the company;
We are a company that is inclusive to all, embraces challenges and we all have a great laugh, even on the darker days! We have a shared philosophy for the commitment to the company, which is helped massively by the company's dedication to their staff. The working environment is very unique and is what makes DM such a special place to work.
If you are interested in finding out how you could become part of the team, please get in contact with us at [email protected] or phone 01869 352 721.