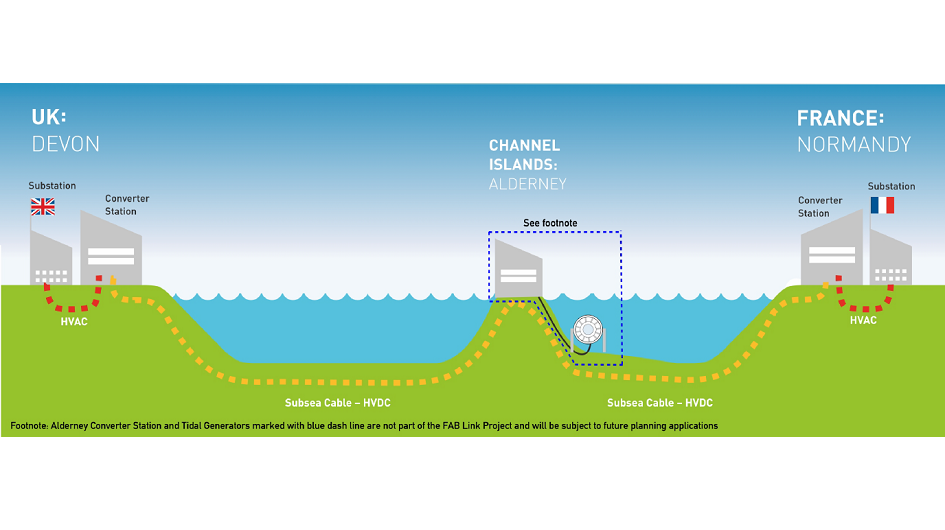 Day to day work at Dalcour Maclaren is often misconceived as just handling compensation claims and arranging access to land for our clients. In fact, the range of instructions that we get is huge, providing valuable experience to our surveyors in areas of general practice, and giving opportunities to those with previous experience to share their expertise. This can be in both rural and commercial environments. Here's another example of this…
Dalcour Maclaren are involved in the development of the FAB Link project, a proposed scheme that will facilitate the exchange of up to 1400MW of electricity between France and the United Kingdom. The project involves the installation of two pairs of electrical cables to be laid underground between the countries, covering a c.220km (136miles!) span from Exeter to Menuel in France, with convertor stations and connections to high voltage grids being installed at each end of the English Channel.
The project is designated as a Project of Common Interest under the Connecting Europe Facility, and will enable the trading of power between the two countries. This is going to be an important factor in trade between the UK and Europe, even after Brexit.
The scheme also has potential to develop further towards providing renewable energy from tidal stream energy (currently being developed by Alderney Renewable Energy), which is a huge step for the UK's efforts towards sustainability.
As the scheme progresses it is set to become extremely complex, with many complicated mechanical components. In these initial stages however, Dalcour Maclaren's role has been integral, drawing upon a range of rural surveying principles and a breadth of experience:
We have used Geomatics skills to create detailed plans and maps, and our Agricultural Liaison Officers have referenced the route and made initial contact with the affected private landowners. Our more experienced surveyors have already advised on a wide range of legal, agricultural and CPO issues, which will continue as the scheme develops.
This is a typical example of the type of projects we get involved with here at Dalcour Maclaren, and how we provide the advice required from several areas of the company to add value to significant national and international infrastructure projects.
If you are interested in finding out more about available roles at DM, please contact Nicola Putt on 01869 352 721 or email [email protected]