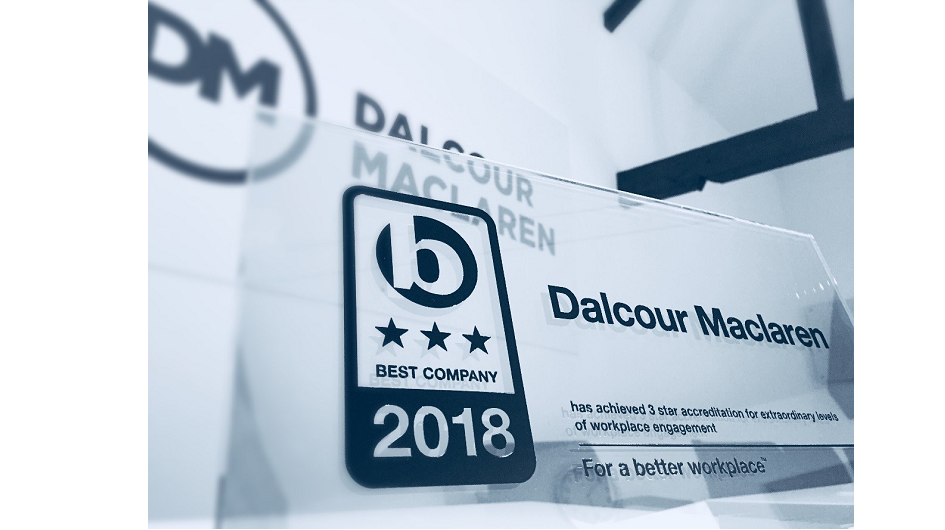 We are thrilled to announce that Dalcour Maclaren have been placed on the Sunday Times Top 100 Best Small Companies to Work For 2018. This is the second time that we have earned a place on the list, achieving a three-star accreditation for 'Extraordinary' levels of staff engagement two years in a row.
The Best Companies Accreditation Standard follows the Michelin style star rating system for businesses, and is determined by employee feedback collected via the Best Companies survey, which every staff member was invited to complete.
This year Dalcour Maclaren celebrates its 15th birthday, and so to be accredited by Best Companies when the competition was so tough is a huge accolade for us and a great way to mark the occasion.
James Neil, Director, says: 'I am delighted that for the second year running we have been successful and are on the 100 Best Small Companies list. We have a fantastic team at DM who all work very hard and it is really important that everyone is part of the team spirit that pushes DM forward to success.'
Each company that earns a place on the list is invited to take part in 'Best Companies Day'. Follow us on Twitter and Linkedin to see how we celebrated, Dalcour Maclaren style!