The TEAM 2100 Purfleet and Grays project is vital to the Environment Agency's long-term strategy to manage tidal flood risk in the Thames Estuary. Anchored flood walls constructed in the 1970s required regular inspection, maintenance, and testing. Dalcour Maclaren (DM) was appointed in March 2022 to address key challenges and provide expert consultation and support.
Challenges Faced
Securing Access: Ground anchors located across multiple operational sites presented access challenges, including container terminals and oil depots.
Site Compound Location: The project required a suitable site compound, with the initial preference being a vacant site owned by Thurrock Borough Council.
Compensation Claim Assessment: A significant compensation claim was submitted by the Local Authority, necessitating careful evaluation and negotiation.
Securing Access
DM initiated direct engagement with landowners and occupiers through effective communication channels. Virtual and in-person meetings allowed for specific access requirements to be addressed, ensuring a successful outcome. Considering various options, DM provided comprehensive advice to the Environment Agency, recommending the use of statutory powers to formalise access, minimising refusal risks, and limiting compensation to losses incurred by the stakeholders.
Site Compound Location
Identifying an appropriate site compound was crucial for project success. DM approached Thurrock Borough Council to secure a vacant site, which was strategically located and had suitable infrastructure. However, to reduce compensation liabilities, DM explored alternative sites that were vacant and unavailable for lease. After thorough evaluation, DM presented the findings to the client and continued discussions with Thurrock Borough Council whilst simultaneously engaging with an alternative landowner. By drawing on expertise from their Flood Defence team, DM demonstrated that the Environment Agency could rely on statutory powers to install the compound under notice. This approach was agreeable to Thurrock Borough Council, mitigating compensation concerns.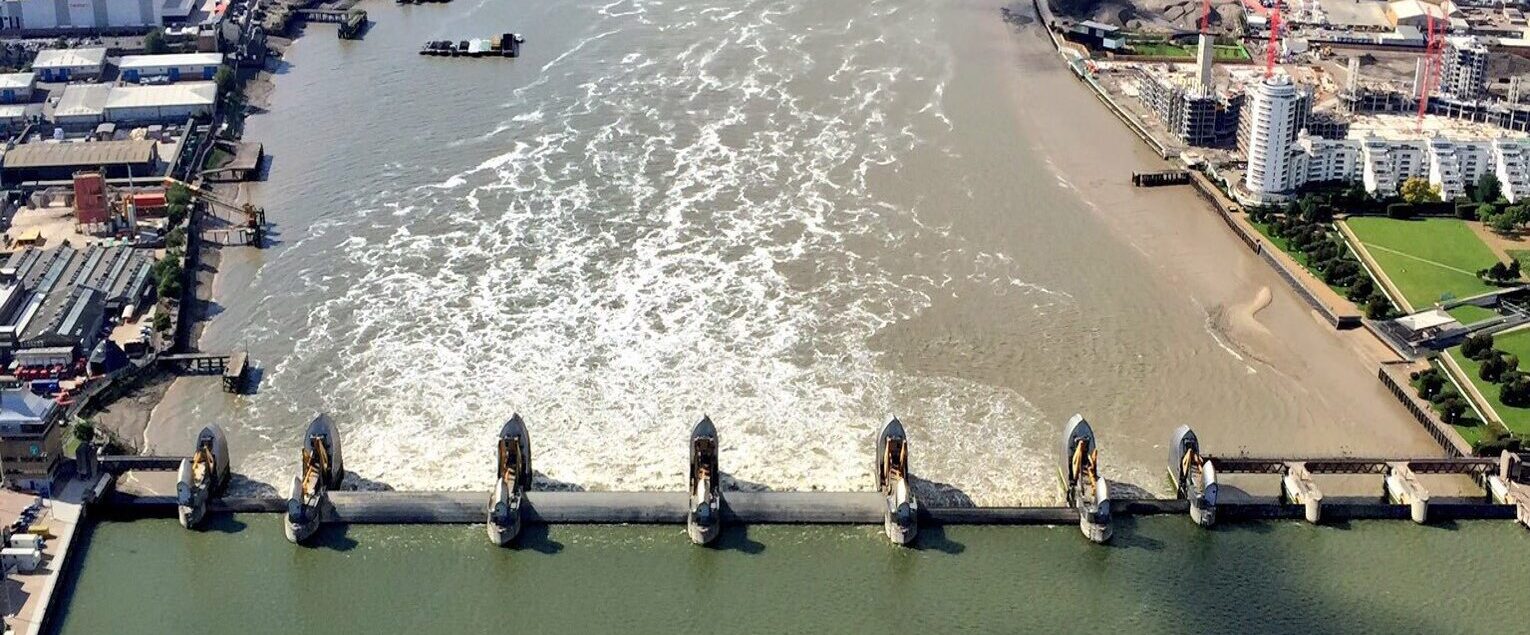 Photo Credit National Police Air Service
Compensation Claim Assessment
Following project completion, DM received a compensation claim from Thurrock Borough Council for approximately £100k. In reviewing the claim, DM discovered that the Council had not effectively mitigated their losses. Through site meetings and discussions with the Council and prospective tenants, DM identified missed leasing opportunities due to internal delays caused by staff turnover. Ongoing discussions aim to showcase DM's value by successfully reducing the compensation claim through demonstrated mitigation efforts.
Conclusion
DM's extensive knowledge and unique expertise in access rights and compensation assessment have been instrumental in the success of the TEAM 2100 Purfleet and Grays project. Their advice and consultation positively contributed to the critical flood project, ensuring long-term protection for homes, businesses, and transport links in the Purfleet and Grays area. By overcoming challenges while upholding values of excellence and trust, DM has demonstrated its value to clients and maintained their reputation. This case study exemplifies DM's commitment to delivering exceptional results in flood defence and environmental projects throughout the UK.
Sector
Transport and Infrastructure
Location
Get in touch
Ivo Macfarlane
Associate Director
Explore our Expertise
With our single focus on utilities and infrastructure, we anticipate our clients' needs and provide tailored and effective solutions.