The future is all about our people. In their own words they tell us about their roles and experiences at DM.
Which Office are you located? Cirencester.
How long have you been working at Dalcour Maclaren? 9 months.
What sector/ job role do you work in? Telecoms
What does your role involve? Working for national Telecoms operators and broadband providers to expand their networks and improve the country's connectivity for a greater digital Britain.
What attracted you to DM?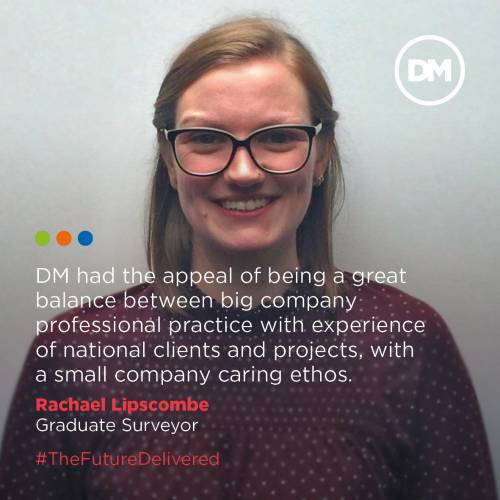 What does the DM Way mean to you? The One Team environment means I don't have to be worried to ask for help as a grad, from any member of the team, not just my immediate line manager. It's a collaborative working environment that means I am progressing much quicker that I think I would in a typical 'apprenticeship' type role, I have more responsibility early on, but the support on hand if I need it.
What do you understand the Future Delivered to mean? As DM specialises in utility clients, I think it means that we are involved in the forefront of future-proofing the country in terms of core services. It's important for everyone that we do a good job!
How did you find the onboarding process at DM? The 'proper' work got underway much quicker than I had been expecting, but I was really pleased to be given schemes of my own to work on and really get hit the ground running. I feel this has helped in my preparation for my APC too, I already have good examples for my experience!