The future is all about our people. In their own words they tell us about their roles and experiences at DM.
Which Office are you located? Mansfield.
How long have you been working at Dalcour Maclaren? Since August 2019 (almost a year).
What sector/ job role do you work in? I'm a Graduate Surveyor working for the Water Sector.
What does your role involve? On a day to day basis I organise access to private land, coordinate site works with landowners and contractors, and lots more!
What attracted you to DM? I was an Agriculture student and didn't really know what I wanted to do. I met DM at a careers event, and the company just sounded so current and inviting.

What does the DM Way mean to you?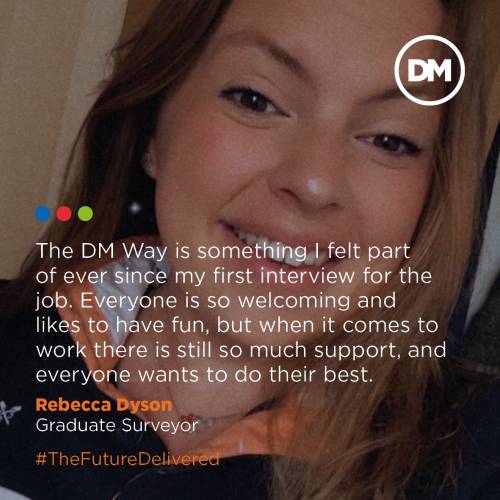 What do you understand the Future Delivered to mean? The Future Delivered means to me; Showing people what we are about as a company, and providing the best possible services we can to a whole range of clients.
How did you find the onboarding process at DM? The onboarding process at DM was great, very encouraging and super helpful. I was put in touch with people from the Mansfield office before I started which made my first day so much easier! I was reassured I wasn't the only new starter who hadn't studied land management, and made to feel like an equal.